Portraits in a Sunflower Field in Mississauga
There are many amazing spots for photography in Mississauga, but the best-kept secret is the My Lakeview Village site: a (not so) hidden sunflower field in Mississauga.
This hidden gem has been around for a couple of years now. This year, a public art installation was added, as well as information about the future development. I met with Fariha  in the early evening, hoping to capture that golden hour glow. Unfortunately, cloud cover from the fires in California and Oregon prevented the beautiful sunset colours we were hoping for. Instead, we were treated with gorgeous even light and were surrounded by the thousands, or hundreds of thousands, of bright yellow sunflowers.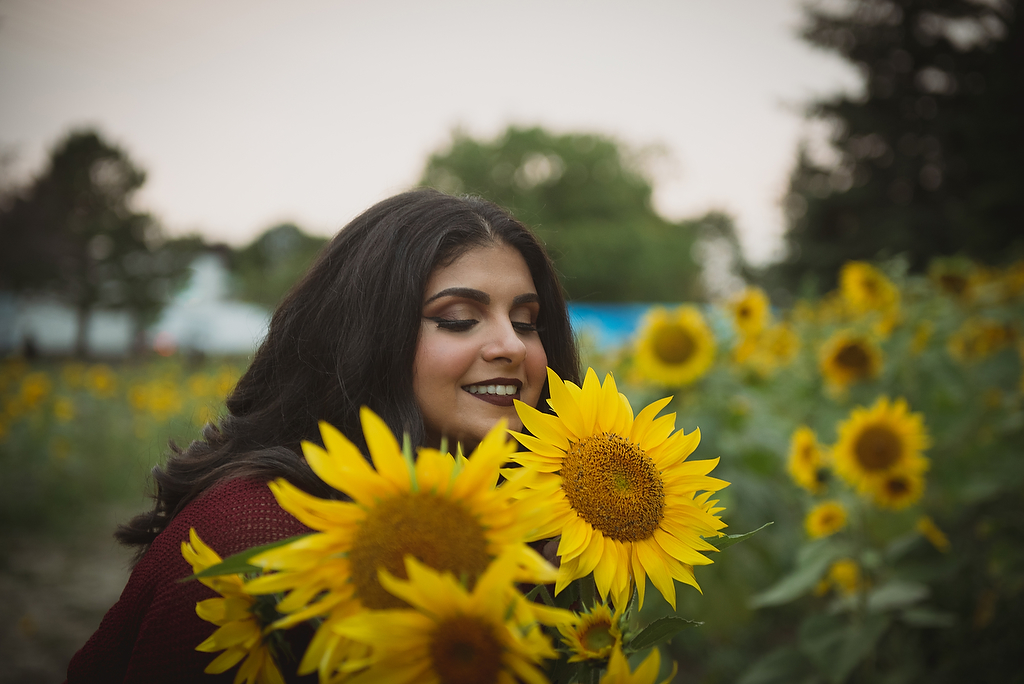 The site
Located at Lakeshore Rd and Hydro Rd in south Mississauga this location is more than just a great photo spot. It serves many purposes, including rejuvenating the soil and serves to help bring back key native species like bees and butterflies.
The sunflowers
My Lakeview Village boasts that there are one million sunflowers planted. This could be true, and while I did not count, there were so many spots to stop and make a photograph. Various heights provided a fantastic backdrop, as did the small hills through the field. Sunflowers, despite their simplicity, have so much character! Each one is different, and each offers something unique. Sunflowers help bees survive, and are particularly attractive to bees due to their high protein nectar. A rough count of sunflowers to bees proved this to be true: there were so many bumblebees on flowers and in the air, if you visit this sunflower field in Mississauga, ensure you watch your step.
Fariha
Fariha is a local makeup artist, offering bridal and non-bridal makeup sessions at her studio or mobile within the GTA. Check her out on Instagram at @FacesByFariha. It was great to work with her, and she was keen on experimenting with different poses and locations. Stay tuned for more collaborations in the future – as we were both brainstorming many different set ups and ideas we want to try!